OUR AlloCAR T™ PIPELINE TARGETS A VAST ARRAY OF TUMOR TYPES
Target
Program
Trial Name
Study Population
Discovery
IND-enabling
Phase 1
Phase 21
Approved
Designation
Next Milestone

Hematologic Malignancies

CD19

ALLO-501A
ALPHA2
3+ Line LBCL
FTD RMAT
Target enrollment completion 1H 2024

CD19

ALLO-501A + ALLO-6472
EXPAND
3+ Line LBCL
Initiated

CD19

ALLO-501A
ALPHA3
Earlier Line LBCL
Ph3 readiness in 2023

CD19

CD19 - Next Generation

BCMA

ALLO-715
UNIVERSAL
5+ Line MM
RMAT ODD
Reviewing Process Improvements

BCMA

ALLO-6053
IGNITE
5+ Line MM
FTD ODD
Reviewing Process Improvements

CD70

ALLO-316
Heme Malignancies

FLT3

ALLO-819
AML

Solid Tumors

CD70

ALLO-316
TRAVERSE
ccRCC
FTD
Cohort expansion 2023

CD70

ALLO-316
Basket Study
Determine histologies for inclusion

DLL3

ALLO-213
SCLC

Claudin 18.2

ALLO-182
Gastric & Pancreatic Cancer
7 undisclosed targets
| Category | Target | Program | Trial Name | Study Population | Stage | Designation | Next Milestone |
| --- | --- | --- | --- | --- | --- | --- | --- |
| Hematologic Malignancies | CD19 | ALLO-501A | ALPHA2 | 3+ Line LBCL | Phase 2 | FTD RMAT | Target enrollment completion 1H 2024 |
| Hematologic Malignancies | CD19 | ALLO-501A + ALLO-6472 | EXPAND | 3+ Line LBCL | Phase 2 | | Initiated |
| Hematologic Malignancies | CD19 | ALLO-501A | ALPHA3 | Earlier Line LBCL | IND-ENABLING | | Ph3 readiness in 2023 |
| Hematologic Malignancies | CD19 | CD19 - Next Generation | | | Discovery | | |
| Hematologic Malignancies | BCMA | ALLO-715 | UNIVERSAL | 5+ Line MM | Phase 1 | RMAT ODD | Reviewing Process Improvements |
| Hematologic Malignancies | BCMA | ALLO-6053 | IGNITE | 5+ Line MM | Phase 1 | FTD ODD | Reviewing Process Improvements |
| Hematologic Malignancies | CD70 | ALLO-316 | | Heme Malignancies | IND-ENABLING | | |
| Hematologic Malignancies | FLT3 | ALLO-819 | | AML | Discovery | | |
| Solid Tumors | CD70 | ALLO-316 | TRAVERSE | ccRCC | Phase 1 | FTD | Cohort expansion 2023 |
| Solid Tumors | CD70 | ALLO-316 | | Basket Study | IND-enabling | | Determine histologies for inclusion |
| Solid Tumors | DLL3 | ALLO-213 | | SCLC | IND-enabling | | |
| Solid Tumors | Claudin 18.2 | ALLO-182 | | Gastric & Pancreatic Cancer | IND-enabling | | |
| Solid Tumors | | 7 undisclosed targets | | | Discovery | | |
¹Phase 3 may not be required if Phase 2 is registrational
²ALLO-647 (anti-CD52 mAb) is intended to enable expansion and persistence of allogeneic CAR T product candidates
³TurboCARTM
The DataBrief video series highlights the latest clinical findings from our investigational allogeneic CAR T cell (AlloCAR T™) products.
ASCO 2023 – Allogene presented long-term follow up data from the Phase 1 ALPHA/ALPHA2 trials of ALLO‑501/501A demonstrating for the first time the potential of allogeneic CD19 CAR T to induce durable complete remissions in relapsed/refractory large B-cell lymphoma (r/r LBCL) at a rate similar to approved autologous CD19 CAR T therapies.
Episode 1: ALLO-501/501A Safety & Tolerability
Episode 2: ALLO-501/501A Response & Durability
AACR 2023 – We presented early findings from the Phase 1 TRAVERSE trial evaluating the safety, tolerability, and activity of ALLO-316, an investigational AlloCAR T™ product candidate for the treatment of CD70 positive advanced or metastatic clear cell renal cell carcinoma (RCC).
Episode 1: The TRAVERSE Study
Episode 2: The Dagger™ Technology Effect
Episode 3: Safety Profile of ALLO-316
Episode 4: TRAVERSE Case Studies
The Industry's First Allogeneic CAR T Phase 2 Trial: ALLO-501A ALPHA2 Phase 2 Study TARGETING CD19 IN RELAPSED/REFRACTORY NON-HODGKIN LYMPHOMA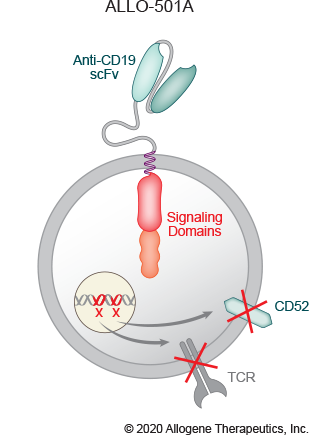 ALLO-715: UNIVERSAL STUDY TARGETING B CELL MATURATION ANTIGEN (BCMA) IN RELAPSED/REFRACTORY (R/R)
MULTIPLE MYELOMA (MM)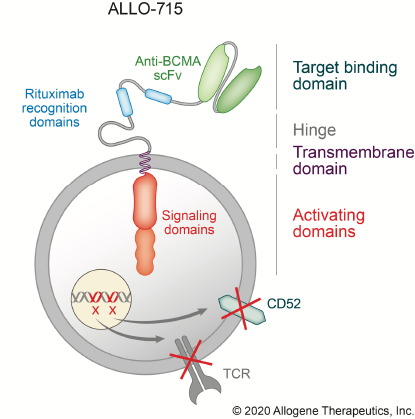 ALLO-715 UNIVERSAL Study Overview
Primary Objective:
Key Secondary Objectives:
Recommended ALLO-715 Phase 2 dose and lymphodepletion regimen
Anti-tumor activity (ORR, duration of response, PFS, and MRD)
ALLO-715 cellular kinetics (blood levels of anti-BCMA CAR T cells)
ALLO-647 pharmacokinetics (serum ALLO-647 concentrations)
ALLO-605: IGNITE STUDY UTILIZING FIRST TurboCAR™ TO TARGET BCMA
TurboCAR™ is designed to recapitulate cytokine signaling selectively in CAR T

Does not stimulate host immune cells which could cause systemic toxicity or reject CAR
Delivers survival benefit selectively to CAR T cells

Opportunities for development include improving the efficacy of CAR T cells
ALLO-605 Ignite Study Overview
Primary Endpoints (Phase 1):
Safety and tolerability of ALLO-605
Secondary Endpoints (Phase 1):
Anti-tumor activity and cellular kinetics of ALLO-605
ALLO-647 pharmacokinetics
Evaluate immunogenicity against ALLO-605 and ALLO-647
Evaluate responses in subjects with previous treatment with an anti-BCMA targeted therapy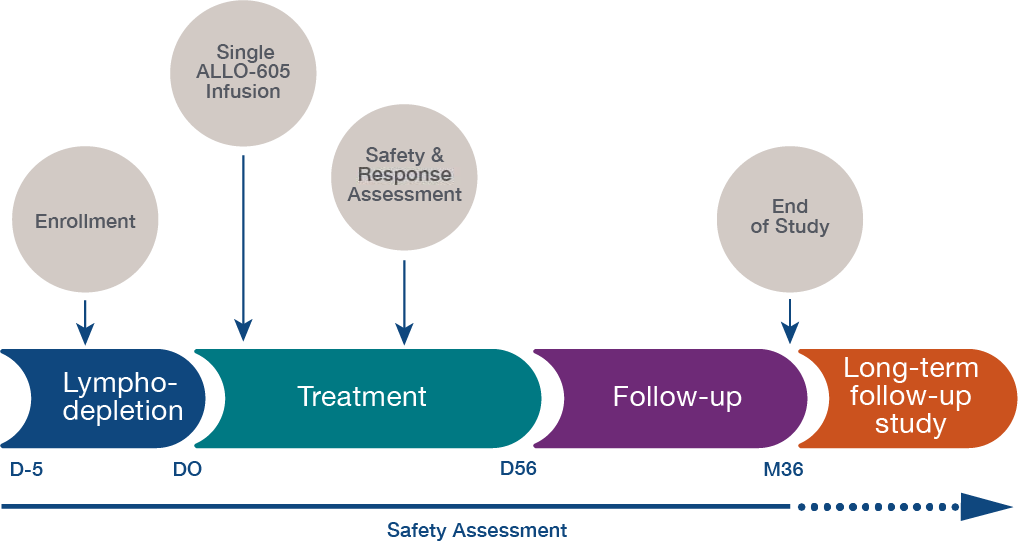 ALLO-316: INVESTIGATING AN AlloCAR T™ IN RENAL CELL CARCINOMA
ALLO-316 is an anti CD70 AlloCAR T™ candidate for renal cell carcinoma (RCC) as well as several hematological malignancies
CD70 target selectively expressed in several cancers1:
RCC (80-100% of tumors)

High prevalence with limited 'off tumor' expression
Phase 1 TRAVERSE trial in RCC initiated in 1H 2021
ALLO-316 is associated with minimal or no fratricide
Study endpoints

Primary endpoints: Safety and tolerability
Secondary endpoints: Anti-tumor efficacy, PK/PD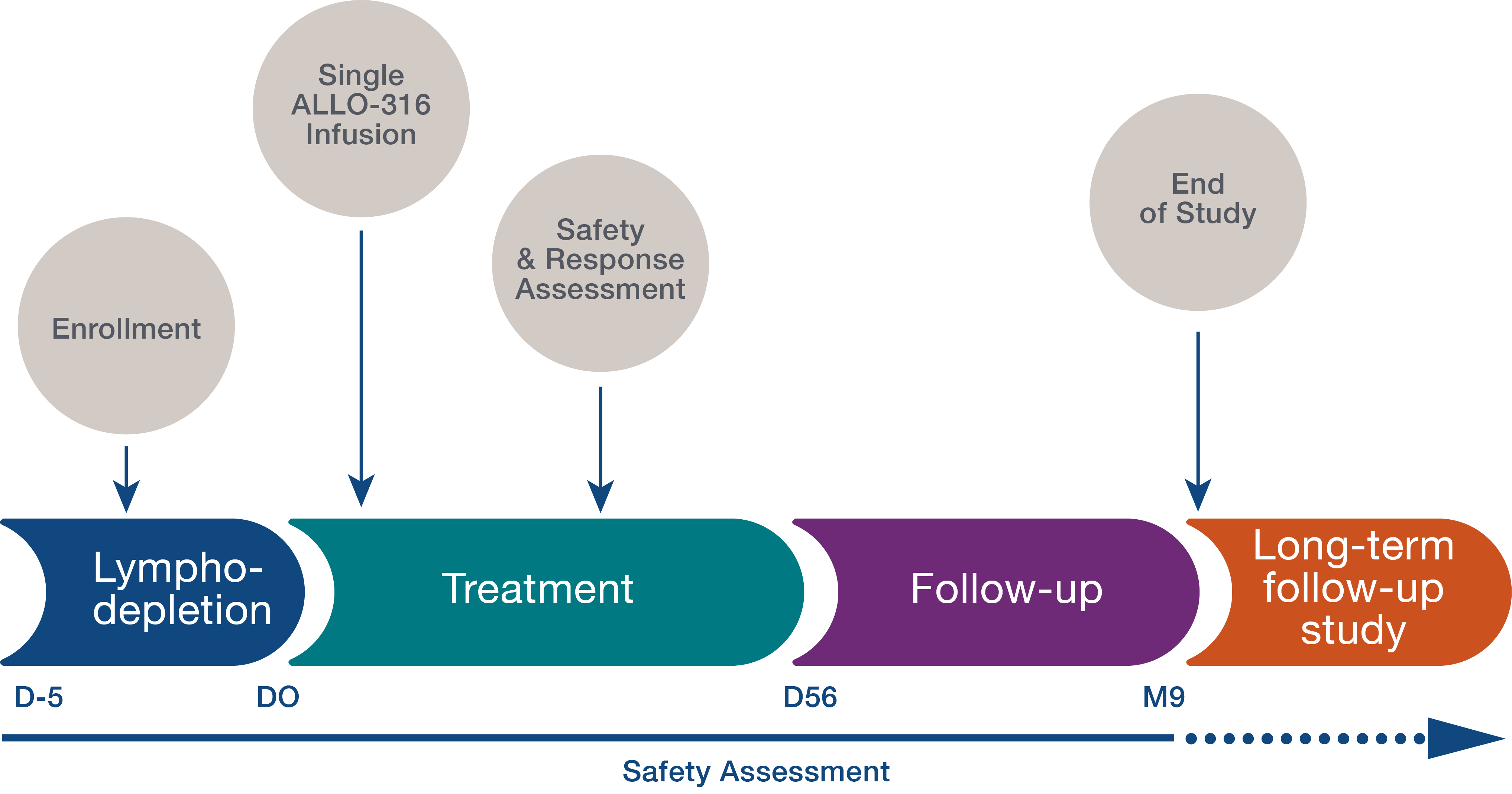 Expert Opin Ther Targets. 2008 Mar; 12(3): 341–351. doi: 10.1517/14728222.12.3.341
CLINICAL TRIALS
Allogene is committed to the development of AlloCAR T™ products for cancer. Successful clinical trials are required to gain regulatory approval for new medications to advance patient care and may be required to support any approved products.
A list of existing Allogene clinical trials is below. For more information on Allogene clinical trials that may be recruiting, search Allogene at www.clinicaltrials.gov
| PROGRAM | PHASE | INDICATION | |
| --- | --- | --- | --- |
| ALLO-501A | 2 | The ALPHA2 Trial: Relapsed or refractory non-Hodgkin lymphoma (NHL) | |
| ALLO-501A/ALLO-647 | 2 | The EXPAND Trial: Relapsed or refractory non-Hodgkin lymphoma (NHL) | |
| ALLO-715 | 1 | The UNIVERSAL Trial: Relapsed or refractory multiple myeloma (MM) | |
| ALLO-316 | 1 | TRAVERSE Study: Renal Cell Carcinoma | |
| ALLO-605 | 1 | The IGNITE Study: Relapsed or refractory multiple myeloma (MM) | |
ALLOGENE'S EXPANDED ACCESS POLICY
"Expanded Access" refers to the use of an investigational product outside of a clinical trial for potential treatment of a serious or life-threatening condition. Allogene Therapeutics is developing allogeneic chimeric antigen receptor T cell (AlloCAR T™) products for patients with blood and solid tumors. Consistent with our commitment to bring innovative, safe, and effective products to patients, we are focused on enrolling and conducting the clinical trials necessary to gain regulatory approvals to make our products broadly available as quickly and safely as possible. Participation in one of our clinical trials is the best and preferred route to access these investigational products. Allogene does not currently have any active Expanded Access protocols nor do we currently provide access to our investigational products on an Expanded Access basis. We encourage patients interested in our investigational products to learn more about our ongoing studies by visiting clinicaltrials.gov.
Treating physicians may request information about Allogene's Expanded Access policy by contacting our clinical trials team:
Allogene will respond to inquiries within 5 business days from receipt.
In the event Allogene decides to consider making one or more of its investigational candidates available for patients who have a serious or life-threatening condition through an Expanded Access program, general criteria to be considered may include: availability of alternative products, the potential risks and benefits to the patient, adequate supply, and potential interference with Allogene's ongoing clinical trials. All requests would be evaluated on a case-by-case basis in a fair and equitable manner.
This policy shall not serve as a guarantee of access to any specific investigational candidates by any individual patient. Allogene reviews its policies from time to time to ensure conformity with applicable laws and regulations. We reserve the right to revise this policy at any time.